Take Time Out at Brisbane's Best Parks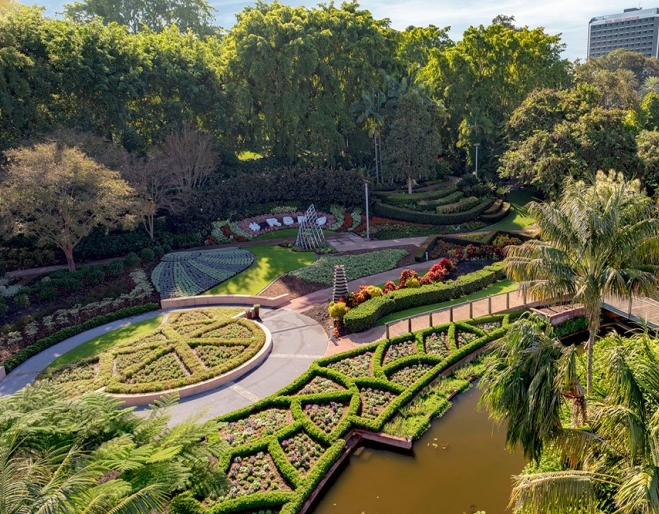 Whether it's a picture-perfect picnic spot, a great playground for the kids, or a new scooter track, there are more than 2160 parks across Brisbane, for fun, entertainment, sport and relaxation.  
Brisbane's suburbs are teeming with picturesque green spaces and beautiful trees, but the inner-city also has its share of tranquil spaces to escape to. Visit Roma Street Parkland, City Botanic Gardens or South Bank Parklands and you will forget you are in the middle of the city!
Here's a selection of great suburban parks, most of which have been recently upgraded, each with their own unique setting and theme:
Grinstead Park, Alderley
A great northside destination for parents with kids of any age, this popular park (which is also known as Shand Street Park by locals) has plenty of green space to run around, a fort-style playground, and a learn-to-ride track.
A must for little ones learning to ride or simply loving their new wheels, in recent months, the park has been updated to include a new learn to ride area, complete with road markings, pedestrian crossings, traffic lights, speed bumps, road signage and a petrol pump station.  The park also includes a sheltered picnic table, refill drinking fountain and bike rack... more
Hanlon Corner, Stones Corner
The new nature-themed play area in Hanlon Park, Stones Corner, has kids flocking to check it out. Featuring fun slides and climbing equipment, sand play and swings, there are also plenty of shaded seating areas for parents to watch from.
Kids will love trying out all of the activities including sandpits with diggers, a water pump station and a multi-level tower for little adventurers keen to explore. Young families can also enjoy a picnic under the new native trees, which are attracting wildlife back to their natural habitat..... more
Bradbury Park, Kedron
Explore the wonder of the magical forest-inspired playground at Kedron's Bradbury Park, with hours of entertainment guaranteed for little ones who love fairies. Nestled among the trees is a small nature play space, with logs and rocks, as well as hidden sculptures to encourage curiosity and imagination.
This magical place, enjoyed by children aged 3-10 years along with their parents and carers, is also just a stone's throw away from Brisbane's first dedicated scooter track... more
Guyatt Park, St Lucia
As well as being home to a recently upgraded playground, suitable for toddlers to 12 years, Guyatt Park in St Lucia also sports Brisbane's first jungle gym-style obstacle course for teens (and the young at heart) to take on for the ultimate challenge.
The playground is designed to test strength, endurance, coordination, balance and flexibility, while the exercise facilities have been specifically designed for park warriors 12 and over to release their inner Ninja...more
Rocks Riverside Park, Seventeen Mile Rocks
Once the site of coral crushing works on Brisbane's westside, this unique riverside park has giant industrial artefacts scattered throughout plenty of green space for kids to wear themselves out in.  
A great meeting point for a day out with extended family and friends, the playground shows off an impressive water-play area, with picnic and barbecue spots close by with nearly a kilometre of riverside promenade to explore on foot or bike... more  
Sandgate Foreshore Park
The park on the beautiful Sandgate Foreshore (near Fifth Avenue) is right by the water, offering cool breezes and shade from nearby trees. The new state-of-the-art playground has soft rubber flooring, a safety fence and an awesome new ocean theme.
Just down the road in Brighton, seafront Decker Park also recently received an upgrade, with a new double slide, pirates fort and junior obstacles, to complement the existing sand play area and nearby picnic spaces... more
Cadogan Street Park, Carindale
This golf lovers' playground offers an 18-hole course, so grab some mates and head down to Brisbane's second disc golf course at Cadogan Street Park, which is part of Carindale Recreation Reserve.
The aim is to throw frisbee-like discs into the target baskets in the fewest number of throws... more 
For more inspiration on more great parks to discover go to Brisbane City Council's website and click on Brisbetter Days Out.
Brisbane City Council is a valued partner of Must Do Brisbane.com