Rose Room Cafe
Fortitude Valley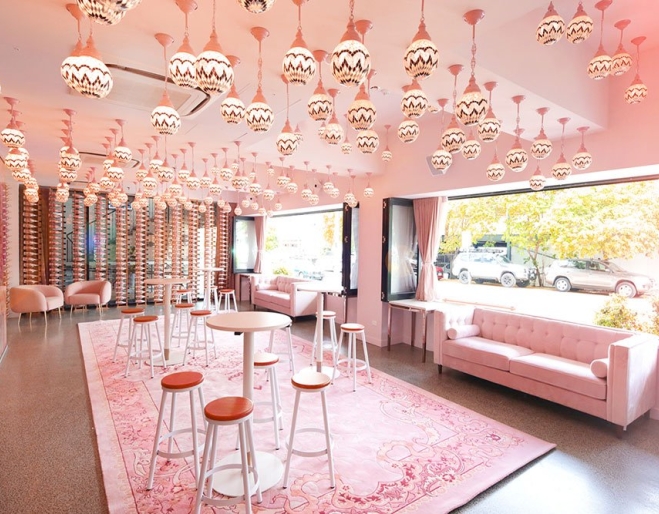 Rose Room Cafe is a splendid all-pink Turkish cafe that is also a glamorous function space, nestled in the base of The Constance Hotel in Fortitude Valley.
The cafe is a sibling for exotic Turkish rooftop bar Dirty Sultan, which is an elevator ride away to the top of the hotel.
Rose gold champagne bottles line the entrance, while the room is a vision in pink, from the curtains to the rose murals on the walls, the tables and couches and the smattering of Turkish light fittings on the ceiling.
There is also an enchanted cherry blossom covered laneway outside with furthr dining space.
Even the food served at Rose Room Cafe is a match for the decor, with scrumptious pink-hued offerings such as the Turkish Delight smoothie bowl (raspberry, banana & rosewater smoothie, Turkish delights, granola, blueberry yoghurt & edible flowers) or the Baklava berry pancake stack (pistachio pancakes, white chocolate, rosewater pearls, berries and baklava syrup). 
There's also Turkish avocado toast, Reuben brisket simit bagel (slow-cooked 12-hour smoked beef brisket, whipped cheese, pickles, green apple sauerkraut and Turkish bagel); Mediterranean Health Bowl (Turkish couscous, pumpkin, avocado, red cabbage, burnt baby capsicum, roasted beetroot, crispy kale, poached egg, yoghurt sauce and micro herbs).
Other choices include Turkish Eggs Benedict (2 poached egss, cauliflower, roasted beetroot, crispy kale & Turkish yoghurt sauce) or Breakfast Pide (traditional Turkish pizza with fried eggs, roasted capsicum sauce and chives) or The Sultan's Turkish Breakfast (a decadent assortment of plates fit for a sultan).
For something light, there's a daily selection of artisan pastries (including cakes, home-made sweets and treats) while for drinks there's a choice of barista coffee, standard or herbal tea, Turkish coffee or Turkish apple tea, fresh squeezed juices and decadent Turkish delight milk shakes.
Need to know - As well as an exotic cafe, Rose Room is also one of Brisbane's most glamorous function spaces.
Images: supplied by Rose Room Cafe
Rose Room Cafe
18 Constance St
Fortitude Valley