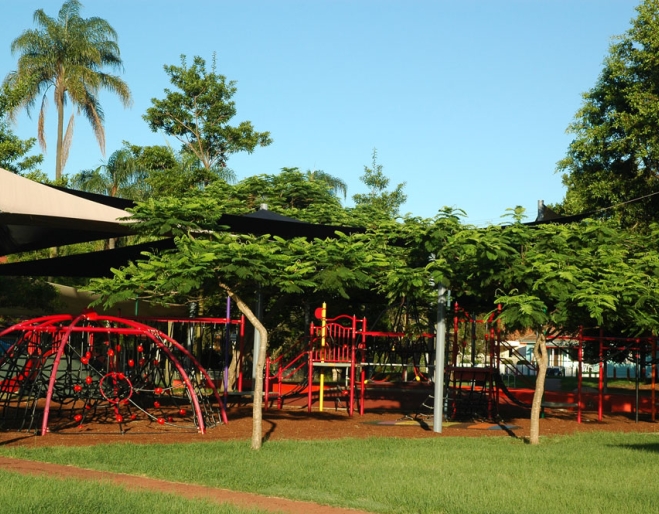 On weekend afternoons, this park resembles a village green in England as families, dog walkers, picnickers and sports players descend on the tree-bordered grassy expanse to enjoy the last of the day's sun.
The state-of-the-art children's playground with its junior maze, sandpit, sundial, climbing web and labyrinth of monkey bar variations can be overseen from the large covered eating pavilion.
Happily for parent,s a convenient source of picnic supplies, coffee and ice-cream - Rosalie Village - is but a three minute walk from the coloured pencil fence on Baroona Road.
Gregory Park itself was originally a wetland known as Red Jacket Swamp Reserve until named after the area's renowned explorer and the city's first surveyor general Sir Augustus Charles Gregory who, when he wasn't off searching for Ludwig Leichardt lived over the nearby hill.
Those with the curiosity and the inclination can see his house 'Rainworth', which was built in 1862 as a lone farm house and, except for the front verandah being closed in, sits in fairly original shape and curiously unmarked at its present day address of 7 Barton St Bardon.
Gregory Park
Baroona Rd
Milton