One of Brisbane bayside's most beautiful walks, this Redland Bay path featuring tiny red sand beaches and stunning island views, is also one of its best kept secrets.
The walk follows an easy, flat, reasonably wide pathway of 3km return which is suitable for wheelchairs, bikes, scooters and strollers.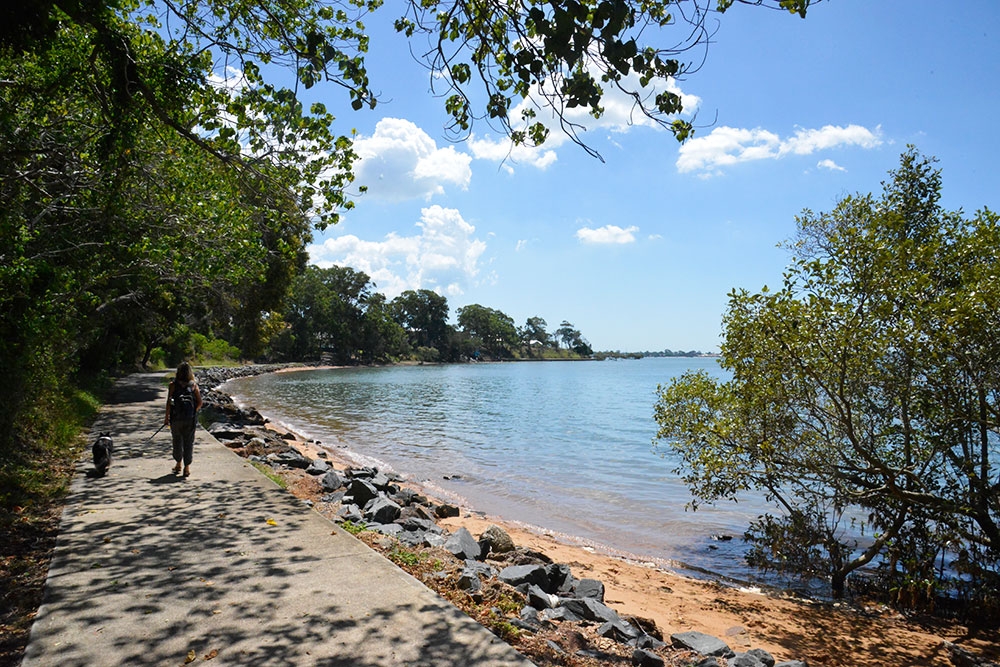 Start at Sel Outridge Park, on the sea side section of Peel Street, where there is a small car park*.
The path starts here, to the left of the car park and heads to the waterfront. A small distance along, a flight of concrete stairs leads up to the historic Redland Bay Hotel, with a beer garden overlooking the sea.
Continue along the seafront path, which hugs the water as it passes through lush tropical groves of palms, paperbarks and ferns and winds around past tiny crescents of red sand.
Along the way are gorgeous vistas across to Stradbroke Island and other small islands in the vicinity. Where the path meets the Esplanade again there is the option of heading up hill to where a row of mansions enjoy the spectacular ocean and island views or stick to the lower path, which takes in a splendid little BBQ spot.
Upon arrival at the golf course, turn around and take the path back again (taking the higher 'road' to start this time if you've taken the lower one on the way there – it rejoins the seafront path after about 50m).
Before reaching the car park on return, walkers might like to take the stairs to the Redland Bay Hotel (one of the few remaining Aussie style pubs - a blast from the past, which also has a kids playground) and enjoy a cold drink and bite to eat in the beer garden. Alternatively pack a picnic and enjoy it in under the shade of a giant fig at Sel Outridge Park
*If this is full, across the bridge, on the other side of Sel Outridge Park, is a much larger car park where island ferry patrons park.
Redland Bay Walk
Sel Outridge Park
Peel St
Redland Bay
Map
Sel Outridge Park Redland Bay