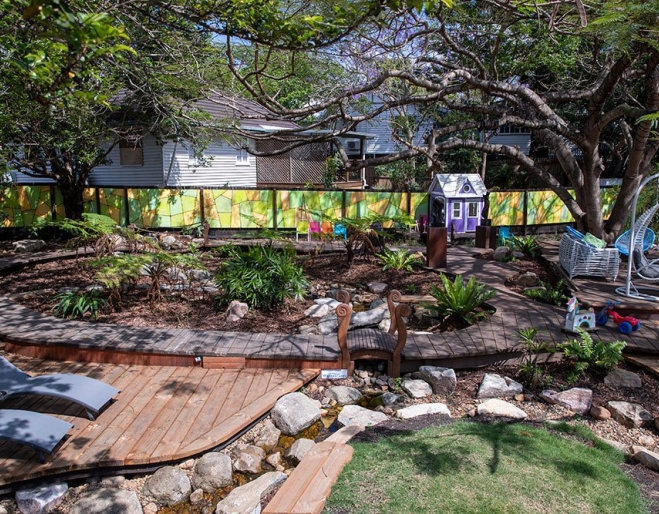 Civosity Park is a unique and enchanting kids space on the edge of Ithaca Creek in Bardon, that is the creation of Brisbane sculptor David Engwicht.
As you emerge from the Ithaca Creek bikeway and walking path underneath Jubilee Terrace, this little magic land appears like a mirage. Or, if you're coming from the corner of Fletcher Parade, pass the ionic column and animal sculpture scene and painted fridge street library that front the sculptor's house and you'll happen across it, too.
This colourful and whimsical little land, which is open to the public, features a cottage play 'cafe', outdoor sundeck chairs and loungers, kids chairs and play equipment.
A circuitous sculpture path made up of a timber boardwalk passes through the park, with bridges over a running stream and a waterfall feature.
Dotted around the space are the artist's own sculptures and selected pieces from invited guest sculptors.
Of note is this beautiful piece of David's, entitled The Great Race, which features a delightful tiny door. Through the generous donations of many members of the public, David was able to create this sculpture to commemorate his turning 70 years old in 2020.
There's even a smattering of children's toys, including a mini tractor and rocking horse for kids to play on.
But not just for kids, adults will enjoy sitting on the furniture under the tree and taking in the beauty of this artistic little space. At night, it's especially pretty, with thousands of fairy lights suspended in the trees.
Civosity Park
Fletcher Pde
Cnr Jubilee Tce
Bardon