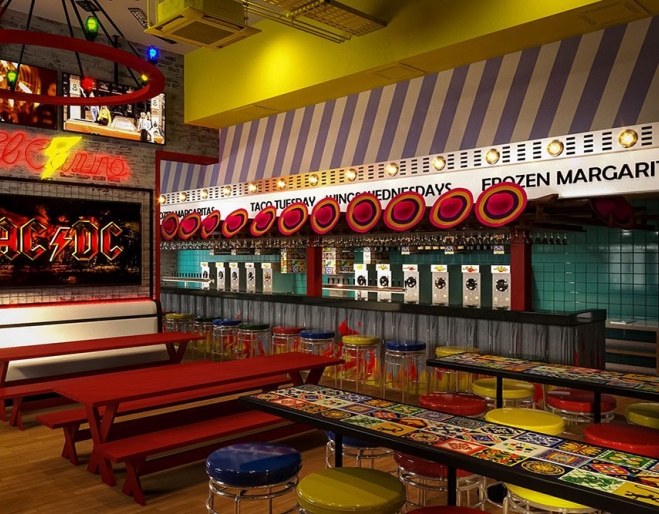 El Camino Cantina is a mammoth two-storey Tex-Mex cocina and cantina occupying a landmark building in South Bank.
With two other outlets in Brisbane, El Camino Cantina's 3rd and largest brings a unique, live entertainment version of the cult-classic Tex-Mex dining and entertainment experience to the popular precinct.
In close proximity to the iconic Streets Beach, the 510-seat diner has three distinct zones: a colourful, umbrella'd outdoor dining area for 140 guests, a ground floor diner that caters to 120 guests, and a bar-centric 250-seat upper floor, known as Hotel Diablo, that accommodates extended dining and focuses on live entertainment, including a rotation of top DJs every weekend. 
While the edgy club vibe and DJ line-up is unique to the South Bank location, the venue takes its tried and tested Tex-Mex cues, in terms of menu, legendary margaritas, décor, trademark cool tunes and free sombreros for every guest from its other venues.
Price-friendly classic Tex-Mex dishes span tacos with eight flavour combinations, sizzling chargrilled fajitas with a choice of four fillings, spicy buffalo wings with three spicy sauces, and nachos loaded with all the Tex-Mex trimmings. A share-style Tex-Mex fiesta menu and drinks package is perfect for group events and celebrations.
Tortillas are house-made daily, and bottomless baskets of complimentary chips and salsas are available all day. Unmissable weekly deals include $2 and $4 taco Tuesdays and 10-cent buffalo wings every Wednesday.
El Camino's margaritas are legendary and to celebrate its opening El Camino is running a six-week long Ritapalooza festival, during which its famous margaritas will be available in 15 frozen flavours.
Their margaritas are served frozen, on the rocks, and Cadillac-style with a smooth, rich float of Grand Marnier, while Margarita tasting paddles of four, 220ml flavours are also available. Beer lovers can explore an imported range of bottled brews, including Dos Equis XX, Corona, Pacifico and Negra Modelo, which join cans of Cerveza Tecate and local draught brews. Sangria, cocktails, wine, and dozens of tequilas and mezcals are also on offer
Good to know - Upstairs, the spacious, live entertainment and extended dining area comprises of two interlinked rooms, which feature booth-style leather seating and tables around the edges, leaving dance floor space at their centres. The larger of the two rooms features a dedicated bar and DJ booth.
Check out our full list of the best South Bank restaurants HERE
See our guide to all of Brisbane's best Mexican cafes & restaurants HERE
Discover 15 top things to do at South Bank HERE
El Camino Cantina
153 Stanley St
South Bank