Maleny Botanic Gardens
Maleny
Maleny Botanic Gardens sits on the edge of the escarpment at Maleny, with the Glasshouse Mountains as a backdrop. The 200 acre property boasts 14 acres of gardens, ponds, waterfalls, bridges, rainforest and winding paths that lead you from one "room" to the next.
Beautiful sculptures and curious items like the fairies at the bottom of the garden add a sense of mystery and fun to the experience. Devonshire Teas can be purchased and enjoyed in one of several gazebos that have been placed to take advantage of the view across the gardens to the Glasshouse Mountains. Any feelings of guilt about devouring scones, jam and real cream soon disappear as the size of the gardens becomes apparent - there's no shortage of walking tracks to burn off those calories.
To fully appreciate the beauty here visitors need to take their time and discover all that the Maleny Botanic Gardens have to offer. Thousands of different plant species can be found here, some well known but others that are rare or from other countries, including some of the rarest cycads in the world. Picnic tables, manicured lawns and shady spots throughout the gardens make perfect picnic spots, so don't forget the blanket. Take time to simply sit, relax to the sound of fountains and waterfalls and soak up both the tranquility and the magnificent view. Be sure to pack a camera because these views and the gardens are sensational.
A more recent addition to the gardens is a large bird aviary. For an extra fee, visitors can join a tour through the aviary where bird carers provide an introduction to and an informative talk about the many species living here. This is an "up close" experience, where visitors can find themselves adorned with birds. Large macaws, parrots, cockatoos, king parrots and other species are happy to perch on welcoming arms, heads, hats etc.
Be entertained by Harry the sulphur crested cockatoo who spends his day working at digging a large hole - presumably planning to tunnel his way out. There are great photo opportunities here and also in the adjoining animal enclosure where alpacas, sheep, goats and chickens roam freely.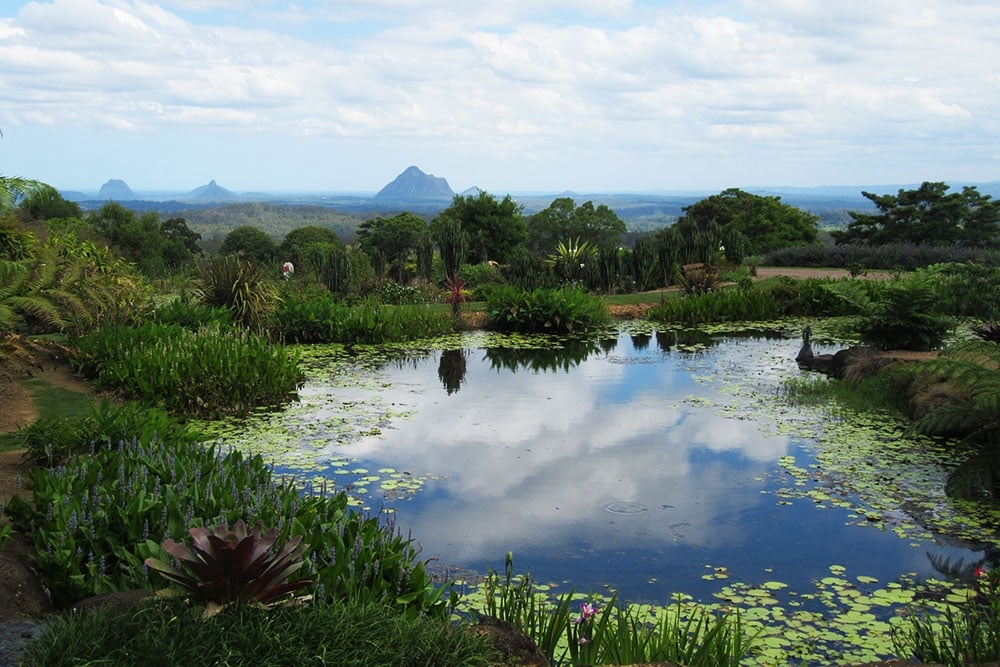 Owner, Frank Shipp purchased this grazing property in 2005 and began planning his dream gardens. In 2011 he showcased the gardens in the Australian Open Gardens Scheme and then opened them to the public full time in 2012. It is amazing to see what has been created in just 10 years - and the gardens continue to expand.
This is a great day out for the whole family with something to intrigue all ages. Wide open spaces allow the kids to run around and an added bonus is that family dogs are welcome too, as long as they are kept on a lead. Bookings can be made for weddings, photography, groups, meetings and functions. There's plenty of onsite parking.
Need to know: Limited access for visitors with walkers & wheelchairs.  A wheelchair can be booked in advance, free of charge. Paths are mostly firm gravel & lawn, some small loose gravel. Some sections of path are also quite steep. Call and enquire re disability access.
Worth knowing: bathroom facilities are only available near the entry point and drinking water is not available in the gardens. Take a hat, sunscreen, water bottle, rain jacket and insect repellant for the rainforest section. Annual and family passes are available.
By Sandy Ludinski
233 Maleny-Stanley River Road
(Cnr Mountain View Road),
Maleny
5408 4110 or
0400 091 731
Map
233 Maleny-Stanley River Rd Maleny