Deception Bay
Heritage Trail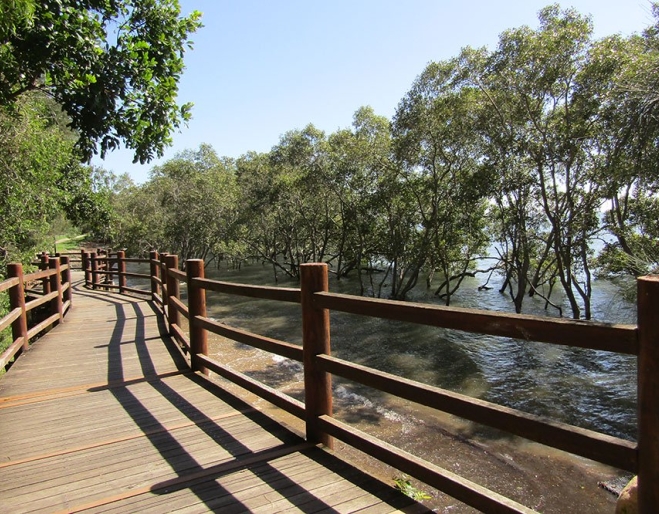 Deception Bay Heritage Trail is a fascinating and scenic 4 km waterfront walk that combines nature and history in one. Features of the Deception Bay Heritage Trail include a dedicated dog swimming beach (near Boama Park), boat ramps, wetlands, cottonwood groves and the historically significant Bancroft Sea Baths.
There are 13 information signs outlining details about the local history which makes this walk through Moreton Bay Marine Park particularly interesting. The signs discuss the lives of the local inhabitants as well as the early settlers, especially Dr Thomas Bancroft who carved out the bathing pools along the foreshore for his wife.
There are boardwalks, picnic tables and viewing platforms with convenient seating located all along the walk, making it very tempting to take along a picnic basket and utilise the free barbecue facilities.
Alternatively, Mermaids By The Bay Cafe is a highly recommended spot to enjoy breakfast, lunch or take away fish & chips along the way.
In a nutshell - Learn about the natural and historcial significance of Deception Bay while keeping fit and enjoying the stunning views across to Moreton Island.
Nice to know - Deception Bay Heritage Trail is wheelchair, bike, scooter and stroller friendly and is an ideal extension of Moreton Bay Cycleway.
Need to know - Deception Bay Heritage Trail begins at the northern end of Beach Rd and ends at the southern end of the Esplanade, Deception Bay. The baths are visible at low tide.
By Lucy Hordern
Deception Bay Heritage Trail
Beach Rd
cnr Joseph Cres
Deception Bay
Map
Beach Rd cnr Joseph Cres Deception Bay