Lota Creek Boardwalk
Lota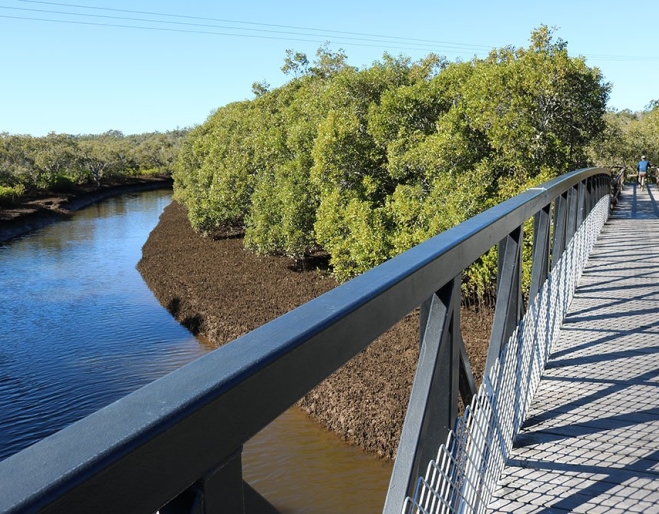 Lota Creek Boardwalk is an easy two-kilometre walking circuit, taking in a diverse array of bayside terrain including mangroves, saltmarshes and eucalypt forests.
A part of the Brisbane Bayside Parklands, the walk starts off at Whites Road, Lota, where a lovely section of well-maintained boardwalk meanders through the mangroves and across the pretty Lota Creek.
The boardwalk (and the entire circuit, for that matter) is wide enough to accommodate bikes, strollers and wheelchairs, plus those just wanting to take their time soaking in the sights.
After a few hundred metres the boardwalk makes way for a wide concrete path, which then turns into a bitumen trail. Here, the landscape changes from swampy mangroves to wide open saltmarsh flats. You'll also pass through some paperbark and eucalypt forests as the circuit veers away from the bay.
The track is mostly flat and suited to all fitness ages, however if you do find yourself needing a break, bench seats are dotted along the way. One particular seat, perched on the banks of the creek, is a lovely spot to stop for a drink or snack.
Dogs are welcome on the circuit, provided they remain on the leash.
Nice to know – If you're looking to make a day of it, continue 300 metres along the shared path towards Manly and you'll find a lovely park, complete with picnic facilities, children's playground and an enormous off-leash dog area.
Need to know – Parking is available along the side of Whites Road, and the entrance to the walk is clearly marked with a large sign.
By Dominique Falk
Lota Creek Boardwalk
Whites Rd
Lota