Eddie Santagiuliana Way
Cleveland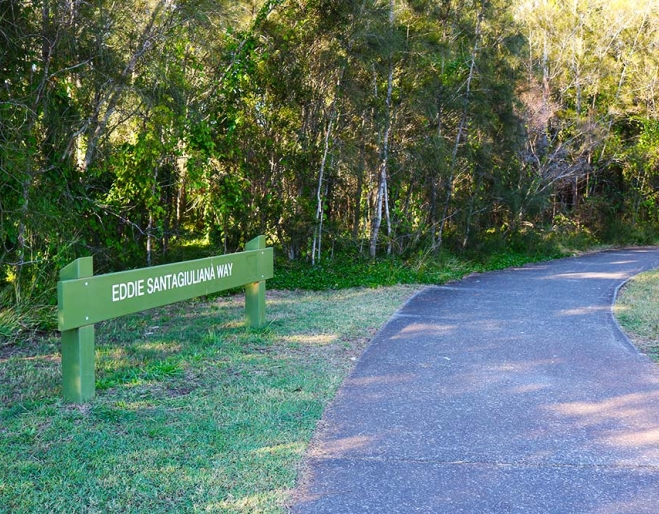 Cleveland's Eddie Santagiuliana Way is a picturesque walking and cycle route, perfectly suited to all ages and fitness levels. 
Spanning an eight-kilometre stretch from Cleveland's Raby Bay Harbour to Thornlands, the largely off-road path takes in some beautiful scenery as it winds its way through the Redlands. 
Along the way you'll see a diverse range of landscapes - from mangroves and creeks to rainforest trees, wide grassy spaces and stunning bay views. 
Younger walkers will enjoy looking out for the ducks and other birdlife as they negotiate the tree-lined boardwalk sections and pass by a couple of duck ponds. If you keep an eye on the trees, you may even be lucky enough to spot one of the resident koalas.
Picnic benches and drinking fountains line the route, plus there are rubbish bags and bins to tidy up after those four-legged walkers. 
You can join the pathway in a number of places, including Channel Street South or Island Street. The latter is a better option for families, as there's more parking and this is where the path passes through Henry Ziegenfusz Park. Here you'll find picnic shelters, sporting fields, public toilets, a basketball court and a children's playground.
The great thing about this walk is you can venture as near or far as you like. Those searching for a real trek will be pleased to hear the path is a part of the much larger Moreton Bay Cycleway.
Nice to know - A good portion of Eddie Santagiuliana Way is shaded, making it a great walking destination on those hot summer days.
By Dominique Falk
Eddie Santagiuliana Way
Cleveland
Map
eddie santagiuliana way, cleveland