Best Short Walks
Mount French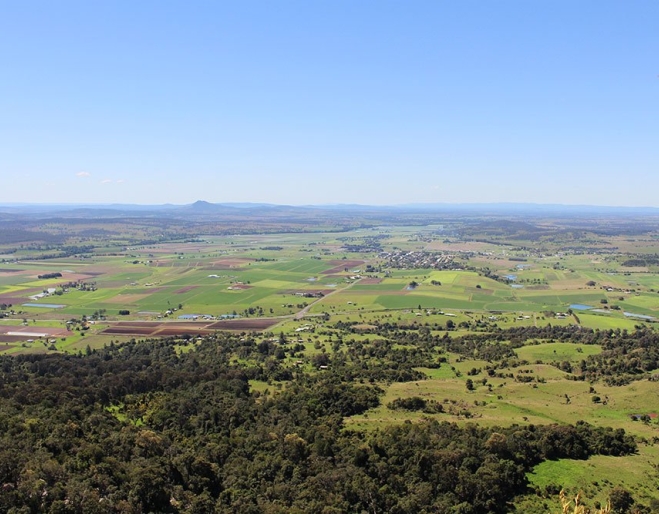 Mount French, near Boonah in the Scenic Rim and just over an hour from Brisbane, has two excellent easy-grade bush walks with great lookouts, perfect for families bushwalking with kids. Take the road to the top of the mountain to find the start of both walks.
Logans Lookout
The most popular bush walk is Logans Lookout, with a bitumen path that is 720m and could easily be negotiated with a pram or wheelchair.
From the lookout you can see the Main Range section of the Great Dividing Range, including Cunninghams Gap and you look directly down upon the rural village of Kalbar, with its tapestry of cultivation encircling it. In the distance, on a clear day you can make out the buildings of Ipswich and, even further in the distance, Brisbane.
This is a spectacular spot to enjoy a sunset, or you might consider visiting this lookout at night to enjoy a clear night sky, a full moon or just to look at the lights in the countryside.
Mee-bor-rum Circuit
This bush walk is a really easy 840m walk to a spot where, through the trees, you can see a nice view of the mountains to the east.
The track isn't as wide or as well-formed as the Logans Lookout path, but the track to the first lookout is still suitable for prams. Care must be taken near the cliffs as there are no handrails at this lookout. 
After the lookout, the track becomes rougher and continues on the circuit where it offers views towards the Macpherson Range and Cunninghams Gap, part of the Main Range National Park. There is a lookout with a seat to sit and enjoy the lovely outlook. 
The track then completes the loop and you return to the day use area.
Need to know - There are excellent facilities with flushing toilets, picnic tables and wood BBQs.
Nice to know - The cliffs of Mount French are known as "Frog Buttress" to climbers and this is one of the best spots in South East Queensland for rock climbing. It's also possible to camp at Mount French as there are a couple of drive-in camp spots near the carpark, and a walk-in camping area that is mostly used by climbers. You need to book with Queensland National Parks, but the campsites fill quickly with climbers in the winter months.
In a nutshell - Mount French, with its easy walks, beautiful scenery and stunning lookouts is a perfect spot for a family outing.
By Kate Bennie
Mount French Rd
Mount French
Moogerah Peaks National Park