Tinchi Tamba Wetlands
Bald Hills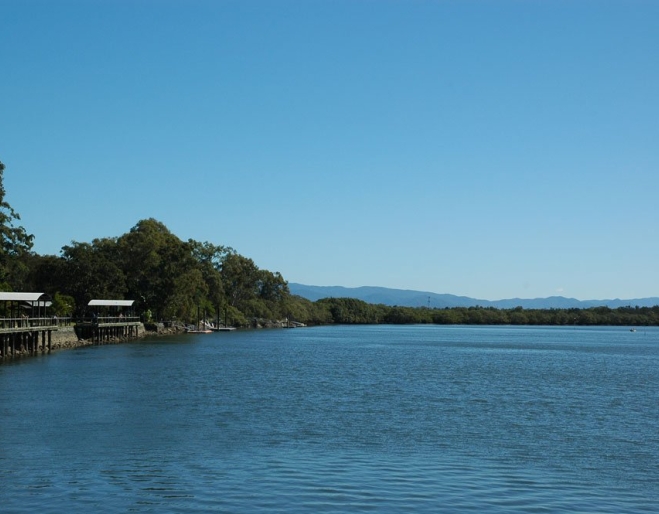 Of the coastal wetlands fringing Brisbane this is arguably the most picturesque with its stunning location on the bend of Pine River and the D'Aguilar Ranges as a western backdrop. The mostly shaded walk itself is an easy, stroller/wheelchair accessible 2.5 or 3.5km return which passes through 3 distinct landscapes and offers the chance to see rare migratory birds (Nov-March) and Eastern grey kangaroos.
1. Start from the Deep River Bend car park and head to the right where picnic pavilions jut out over the water and fishermen cast a line. Unless super keen to bird watch ignore the bird hide track till the end and follow the boardwalk above the salt marshes as it tracks the river. At low tide the vibrant leaves of Seablite turn the ground into a red and green carpet.
2. From the riverside the track plunges into the delicate fine-needled world of the Casuarina (she-oak) trees before turning into the weirdly sculpted landscape where monkey vines drape all of the dead trunks like a population of wood creatures.
3. Emerging on the other side of the forest the 1km return path to the bird hide reappears and is well worth taking in the early morning or late afternoon, with the chance of seeing sea eagles, kingfishers or the more rare avocet, magpie geese or even jabiru. The grassy plain beside the track is a grazing spot for giant Eastern grey kangaroos who have taken up residence in the wetlands.
After this detour it's a short hike hike of only a few hundred metres back to the car park.
Tinchi Tamba Wetlands
Wyampa Rd
Bald Hills
Map
Wyampa Rd, Bald Hills, Queensland