John Goss Reserve
Chermside West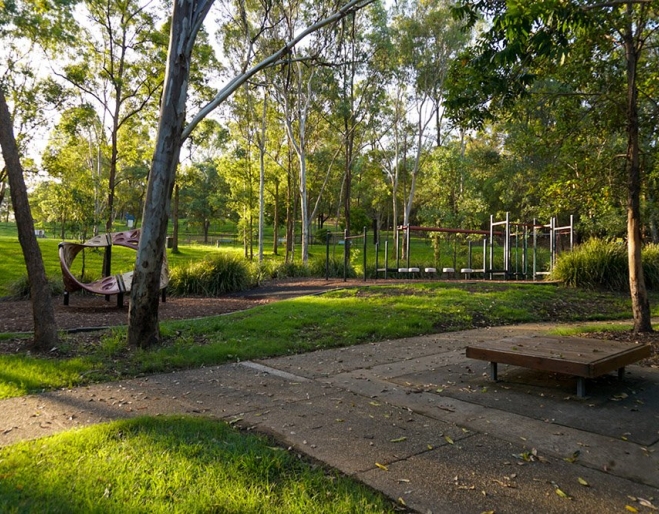 Set on a leafy hillside in Chermside West, John Goss Reserve offers something for the whole family with sports fields, a playground, picnic areas, dog parks and a fitness station. 
 Accessed from Maundrell Terrace or Kenna Street, the reserve is split into different activity zones. 
The play area is mostly shaded by sails and trees and features equipment for a range of age groups. For pre-school and school aged children there's an obstacle course with stepping stones, an infinity climbing frame and fort.
The toddler play area has a giant abacus, noughts and crosses game, a mini sandpit with a digger, a low-lying tunnel and wobbly bridges. Other equipment includes a slide, group swing and stand up spinner. 
Next to the play zone, there's a couple of barbeques and covered picnic tables. There are bubblers and toilets nearby, including a wheelchair accessible toilet.
There are also several grassy and wooded areas within the reserve where you can play, picnic or spot native birds such as kookaburras. In addition there's an exercise zone featuring a state of the art fitness station.
Nice to know - The reserve is also home to the Everton District Cricket Fields. Perched on top of the hill, the sports fields offer a huge grassy area for you to enjoy. 
Need to know - if you're after the cricket fields, you can access the reserve from Kenna Street. The Maundrell Terrace entrance and car park is best for the playground, dog parks and fitness station. Take along insect repellent, especially after rain or if you're visiting in the late afternoon. 
By Nicole Swaby
John Goss Reserve 
Maundrell Tce
Chermside West