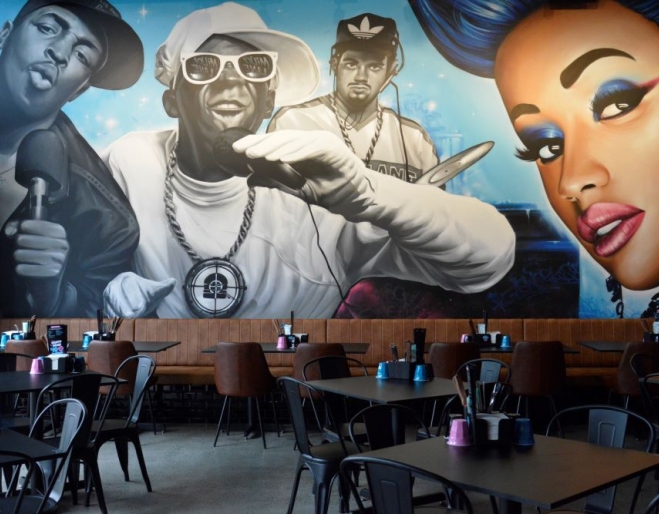 Milky Lane has landed in Brisbane with an uber-cool burger bar slinging loaded burgers, decadent desserts and creative cocktails with a side of hip-hop. 
Located at Gasworks Plaza in Newstead, the funky fit-out features vibrant murals by local street artist Sofles and pops of neon with plenty of seating provided inside and out.
Milky Lane's legendary over-the-top burgers include Lil Weezy (wagyu beef patty with double cheese, pickles and cheese gravy),  Kevin Bacon (two wagyu beef patties, double cheese and double maple smoked bacon) and Big Poppa (wagyu beef burger, double cheese, 12-hour smoked beef brisket, maple bacon, mac and cheese patty, and onion rings).
There's finger-lickin' chicken burgers like Chic-Kanye (southern fried chicken, maple bacon, double cheese, Carolina slaw, barbecue sauce and habanero pineapple relish) and Big L (chargrilled chicken breast in Portuguese chilli marinade with Swiss Cheese and garlic mayo), plus The Drake vego burger (vegetarian pattie, double cheese, chargrilled portobello mushroom and truffle aioli). 
Tasty sides consist of bacon and four-cheese macaroni croquettes, mushroom and mac croquettes, pop-korn chicken, beer-battered onion rings and loaded fries smothered in melted cheese, bacon bits, shallots, cheese gravy and Milky Lane's special sauce.
IF you still have room left, drool-worthy desserts to try include Baked Cookie Dough (baked chocolate chip cookie dough filled with marshmallows, chocolate fudge and Twix, topped with vanilla gelato rolled in Fun-fetti and toasted marshmallows, dusted with icing sugar) and deep-fried Golden Gaytimes coated with crushed biscuits and cornflakes, drizzled with maple syrup and Nutella.
Alternatively, there are scrumptious cocktails that could double as dessert such as Reeces Peanut Butter Martini (42 Below vodka, chocolate liqueur, peanut butter, cream, chunky chocolate rim and mini Reece's chocolate) and Bubblegum Sour (Bacardi rum, bubblegum syrup, strawberry, lemon, apple and egg white, topped with fairy floss and toasted marshmallow).
Otherwise, there's beer on tap, as well as bottles and tinnies, frozen Rekorderlig ciders, and a short and sweet wine list. 
By Deb Lidster
Milky Lane 
Gasworks Plaza
76 Skyring Tce
Newstead
Licensed