Il Molo Italian Kitchen & Bar
Bulimba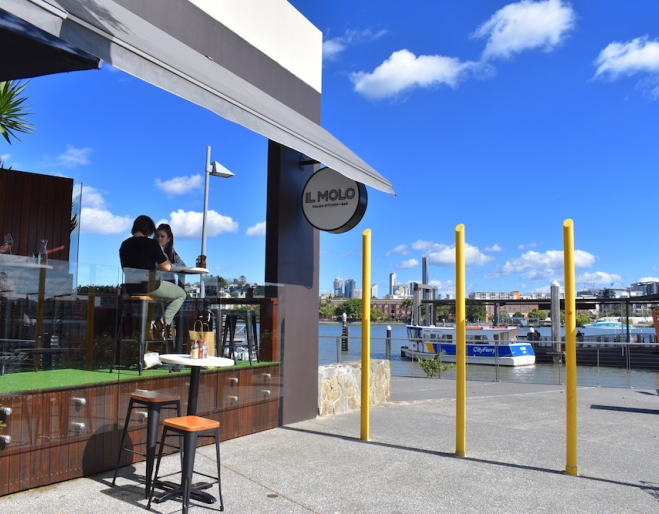 Il Molo Italian Kitchen & Bar is a spectacular waterfront restaurant nestled on the end of Oxford Street in the suburb of Bulimba.
Il Molo means 'the jetty' in Italian, which pays tribute to the restaurant's previous residence – The Jetty on Oxford, as well as its' prime location on the Bulimba jetty.
The décor is neutral and ambient, featuring large black and white photographs and an expansive stone wall. The open plan restaurant has various types of indoor and outdoor tables, ideal for both intimate dinners, as well as group dining. Taking advantage of the river location, there is spectacular views from the astro turf deck.
There's no time that you can't visit this suburban restaurant, as Il Molo is open for breakfast, lunch and dinner, or even just a few drinks at the bar.
The Italian inspired menu features everything from antipasti, to pizza, pasta, mains, sides, desserts and even a 'Bambini' menu for the little ones. Popular antipasti dishes include the Insalata Caprese and the Carpaccio di Manzo which is beef carpaccio, fried capers, lemon and parmesan.
For seafood lovers, the Pesce Del Giorno is another popular choice – featuring the fish of the day, charred zucchini, capers, watercress and a gremolata sauce. Alternatively, if meat is more up your alley order the Bistecca di Manzo. The dish features a John Dee beef fillet topped with grilled mushroom, garlic, beans and jus.
The cocktail menu is expansive, featuring a range of popular cocktails, as well as Il Molo's own creations which can be ordered in carafe's and shared. The wine list Is expansive, as well as general spirits and beers on tap. Coffee can also be ordered for those looking for an after-dinner treat or a morning caffeine hit.
Need to know – Street parking is available in surrounding streets.
By Zoe Kirby
The menu may have changed since our visit.
1B Oxford Street
Bulimba
Licensed
3899 6113