Boo's Kitchen
Woolloongabba
Boo's Kitchen brings the fresh traditional flavours of northern Thailand to Woolloongabba, in this unique restaurant that is unlike any other Thai eatery in Brisbane, from its name to its menu, music and decor.
At the heart of the convivial restaurant is chef and owner Boo, whose personality is as bright and bold as the tastes of the delicious cuisine she prepares. When not cooking up a storm in the open kitchen she is known to mingle with the customers, talking about the home-style food from Isan, her region of Thailand and making them feel like a guest in a Thai family home.  
Guests can watch the world go by from the inviting astro-turf terrace on in the charming interior, which unlike most Thai restaurants in Brisbane, features colourful cushions, stools, wooden tables and coloured lights. The striking, unique interior is a match for the bold flavours of the food, which keeps those-in-the-know coming back for more.
This is the perfect place for diners to explore the tastes of Thailand beyond the standard Thai fare offered in most Brisbane restaurants, although Boo also offers a handful of familiar dishes such as fish cakes, curry puffs, Panang or Massaman Curry and Pad Thai, but with her own flavour stamp. Her menu, which features traditional Isan dishes from her home in the regional north (think salads, BBQ skewers, noodles and seafood), is written in a personal explanatory way, with stories behind the dishes and flavours, making it easier to decide on what to order.
Boo works closely with her Head Chef to create dishes that are different from your standard Thai menu, with her popular Chefs Specials menu. One such dish is the Grilled Lamb Cutlets with a special sauce made by her Head Chef, finished with a dusting of Sichuan pepper.
Another is Garlic Deep Fried Quail, which is very slightly deep fried to give it a crispy skin but maintaining the quail flavours, and tossed with dry shallots, garlic, chilli, black pepper and Himalayan salt. 
Another more recent offering is the specially sourced large king prawns which are grilled in the shell and served with a traditional seafood sauce - Nam Jin. Meanwhile, Boo's version of Thai Pineapple Fried Rice stays true to its Thai origins served in a pineapple and will evoke memories of warm balmy evenings in Thailand, eating at beach shacks or at rickety tables at the local Thai restaurant.
From the main menu, recommended starters include the juicy Satay Chicken Skewers (made from chicken Maryland) with fragrant house-made peanut sauce, tender Salt and Pepper Calamari (tossed in salt and pepper sauce) or the Crab Net Rolls (deep fried and filed with crab and prawn meat) served with plum sauce.
For Mains you can't go past 'Boo's Favourites', including her signature Isan or Thai Papaya Salad, which comes from her hometown and is rarely found in Australian restaurants. The platter to share is a mix of pork crackling, Asian ham, boiled eggs, rice noodles and tender chicken skewers. Another must try is the Whole Barramundi - deep fried whole baby Barramundi fish served with an authentic Thai 3 flavour sauce (sweet, sour, spicy), cherry tomatoes, pineapple, lychee and chillies.
Boo's Head Chef Aeey hails from Bangkok and brings his own creative flair to the menu with 'Chef's Special Flavours' such as Bao Buns with crispy pork belly and his own special teriyaki mayonnaise, as well as Hainanese Chicken Rice. Must try is the Thai Duck Curry with Lychee, Pineapple & Basil - succulent boneless duck with lychees, cherry tomatoes, pineapple and basil - or the delectable Massaman Lamb Shanks (unique blend of Thai and Indian flavours with cinnamon stick).
No visit to Boo's Kitchen would be complete without ordering one of the Thai salads for which the northern region is known. Customarily here all meals are accompanied by a salad and choices at Boo's include Isan Spicy Wagyu Steak Salad (spring onion, coriander, mint, lime juice, dried chilli and tender strips of beef), and traditional laab (dry salads traditionally served with rice); while super popular dishes include Boo's Duck Salad (made from a family recipe) and Isan sausages (specially made by Boo with a mixture of pork and herbs sliced and served with fresh cucumber, sticky rice and dipping sauce).
Other dishes to try include Drunken Noodles with prawns and scallops, melt-in-the-mouth Isan-style Custard Salmon (the Isan version of steamed curry salmon which, in lieu of steaming, uses eggs with the fresh herb flavours of galangal, kaffir lime leaves and lemongrass) and Laksa (Boo's special Thai version of the Malaysian/Singaporean dish with a decadent mix of prawns, scallops and calamari).
Boo's desserts are worth saving room for too, with a choice of sticky rice and mango (seasonal), warm chocolate cake with vanilla ice-cream and raspberry compote, or the must-try Coconut Panna Cotta served with mango gelati and coconut roll. 
There's also a cracking wine list to complement the menu at Boo's Kitchen with wine served in beautiful glassware. The small curated selection of wines include a Tatachilla Cabernet Sauvignon, St Halletts Shiraz, Red Hill Estate Cool Climate Pinot Noir, Dusky Sounds Pinot Gris, Ta_Ku Sauvignon Blanc, and Margaret River Fishbone Rosé - voted as a top cellar door experience in Halliday's 2021 experiences - all good quality but without the price tag. Apart from the wine selection, beer on tap is available including Estrelle Damm, considered the oldest Spanish beer, which goes down a treat with Thai food.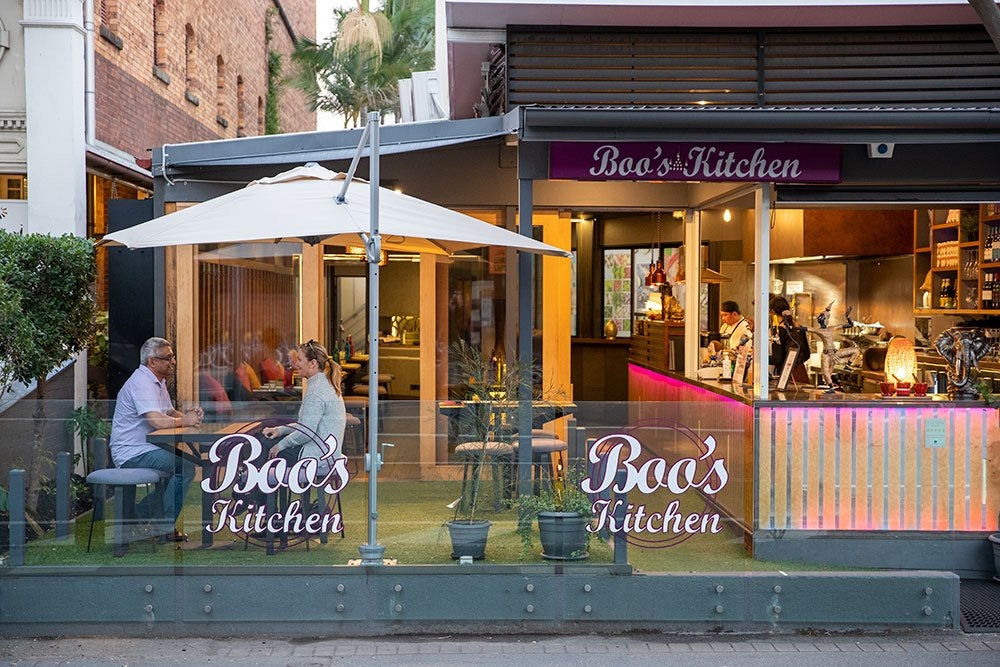 Good to know - In keeping with the fun casual atmosphere at Boo's, you won't find traditional Thai music here but the hits of the 70's or 80's, which the chefs have been known to sing along to.
Need to know - Parking is available (and permitted) in the nearby Princess Plaza Shopping area and there is also underground parking.
Boo's Kitchen is a valued partner of Must Do Brisbane.com
Boo's Kitchen 
1/12 Annerley Rd
Woolloongabba
Licensed
0426 395 515