Lores Bonney Riverwalk
Hamilton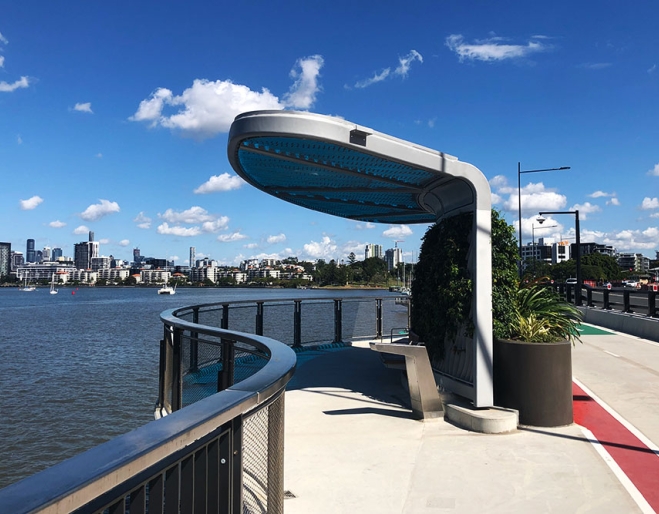 The Kingsford Smith Drive riverside promenade, Lores Bonney Riverwalk, meanders for 1.2 kilometres between Cameron Rocks and Bretts Wharf, with stunning views along the Brisbane River and across to Bulimba.
The shared, off-road pathway includes a dedicated, 2-metre wide lane for pedestrians to walk or jog along, whilst running parallel to a 2-way cycle path spanning 3-metres in width.
Dotted with green spaces that are perfect for picnics, as well as over-water rest platforms complete with water bubblers, the Riverwalk was named in honour of a very accomplished but little-known aviatrix of the 1930s – Maude 'Lores' Bonney.
Close to the eastern end of Cameron Rocks, you'll find a number of grassy and multi-leveled areas, including the Cameron Rocks Reserve fishing platform, that are a welcome and inviting spot to just sit and watch life on the river float by, or to drop a line in from. There's even a stainless steel scaling bench with running water for you to clean up your catch before heading home.
Cameron Rocks Reserve is also the home of the Hamilton War Memorial, which was relocated from Cooksley Street, Albion, to this site in 2016 and beautifully restored in 2017. In commemoration, it carries the names of conflicts that members of the Clayfield-Toombul RSL sub-branched served in during World War I.
You'll also find informative plaques at several points along the way that share the history of a number of iconic buildings in the area and explain what you're looking at across the river.
At the eastern most leg of the walk is Bretts Wharf ferry terminal and the popular dining and retail precinct of Portside, and this is a great spot to recharge the batteries before heading back or to fuel up before you start. 
Unless you live in the neighbourhood, why not park the car at either end and make it a return trip. Off-street parking is available near iconic Breakfast Creek Hotel, or you could make the walk slightly longer and park near historic Newstead House. Whilst you're nearby, pop in to the amazing MICA for a coffee by the river and a bite to eat.
By Danella Perrins
Before heading out on any Brisbane bike rides, make sure you keep your bike serviced and in top-top condition. Or, if you really enjoy to walk along the Brisbane River, check out our river walks section for the full guide.
Lores Bonney Riverwalk
1.2klm off-road path
Pedestrian and cycle way
Breakfast Creek to Bretts Wharf