Early Bird Markets
Beenleigh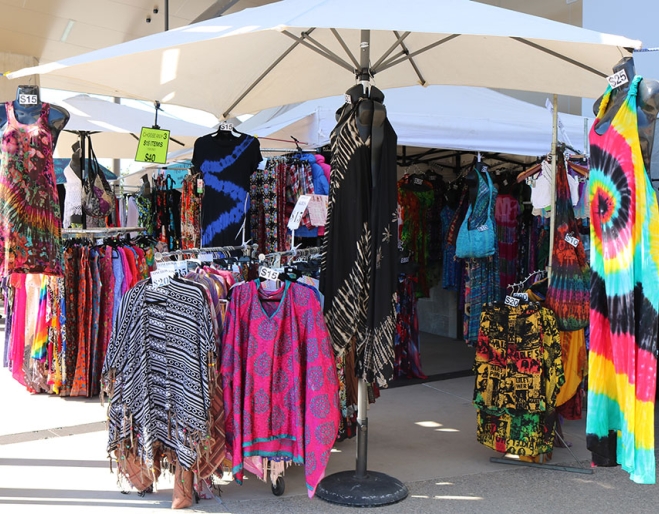 A hit with the locals and those in the know, Beenleigh's mid-week Early Bird Markets are well worth discovering.
Staged every Wednesday from 8am till 1pm at Beenleigh's rejuvenated Town Square, the intimate but vibrant markets are a great spot for a casual meal or to snap up a bargain.
Whether you're after a mid-week coffee date or relaxed breakfast, brunch or lunch, there's plenty here to satisfy your needs.
Food and drink offerings include delicious slow-cooked meats courtesy of The Roaming Pig, freshly-squeezed juices, coffee, mouth-watering shanks (thanks to the cleverly-named Shanks-a-lot), and the classic Aussie sausage sizzle.
Doughnut connoisseurs must stop by the popular BadBoys Doughnuts stall and try one of the sugary creations – including the raspberry chilli chocolate or spiced chai varieties.
Once you've selected your refreshments, grab a table in the shaded seating area.
For the bargain hunters there's a stack of treasures waiting to be unearthed, including unique crafts, local produce and honey, sporting gear, hats, jewellery, watches and clothing. Much of the clothing has a distinct island flair, meaning it's bright, breezy and perfect for those hot Brisbane summers.
Nice to know – These markets are dog friendly and easily accessible for wheelchair and stroller users.
Need to know – Parking and entry is free, although stallholders accept cash only, so make sure you come prepared.
By Dominique Falk
Beenleigh Town Square
Crete St
Cnr Kent St
Beenleigh
Wed 8-1
Map