Mingle Markets
Yarrabilba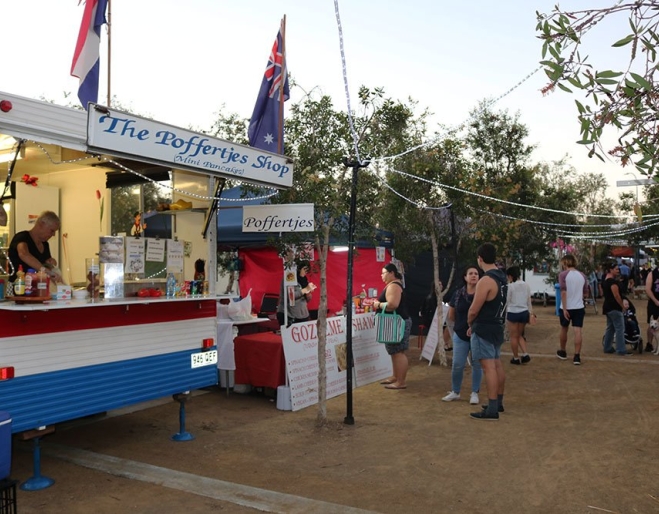 Yarrabilba's Mingle Markets burst to life on the second Friday evening of each month, bringing with them some great food, fun and music for the whole family.
Taking place at the popular Darlington Parklands, the markets kick off at 5pm and run until 9pm. There's more than 30 stalls to explore, showcasing food, arts and crafts, locally-produced honey, kids toys, gift hampers and more.
Most nationalities are represented among the food trucks, with some of the delicious fare including sushi, Dutch pancakes, wood-fired pizza, spit roast, German sausages, beef jerky, Japanese hot dogs and Turkish gozleme. There's also freshly-cooked BadBoys Doughnuts, plus those market staples of fairy floss, twisty potatoes on a stick and coffee.
Once you've selected your cuisine of choice (or multiple cuisines!), take a seat at one of the open-air tables and enjoy the live music playing from the colourful stage. Depending on the time, you may even get to see the sky transformed by a beautiful sunset.
The kids will love feeding the animals at the baby animal farm, and there's plenty of grassy spaces to burn off any excess energy (or perhaps all that sugar from the fairy floss).
These aren't the biggest markets going around, but the food is good, there's a bargain to be had, and the vibe is nice and relaxed. Just what you want on a Friday evening.
Nice to know – Darlington Parklands is home to a brilliant playground, so if you have kids, they'll thank you for arriving early for a pre-market play.
Need to know – The stallholders accept cash only, however there is an ATM on site if you don't come prepared. Free parking is available and the markets are wheelchair-, stroller- and dog-friendly.
By Dominique Falk
Mingle Markets
Darlington Parklands
Yarrabilba
2nd Friday monthly
5-9pm
Map
Darlington Parklands Yarrabilba