Hundred Acre Bar
Hillstone St Lucia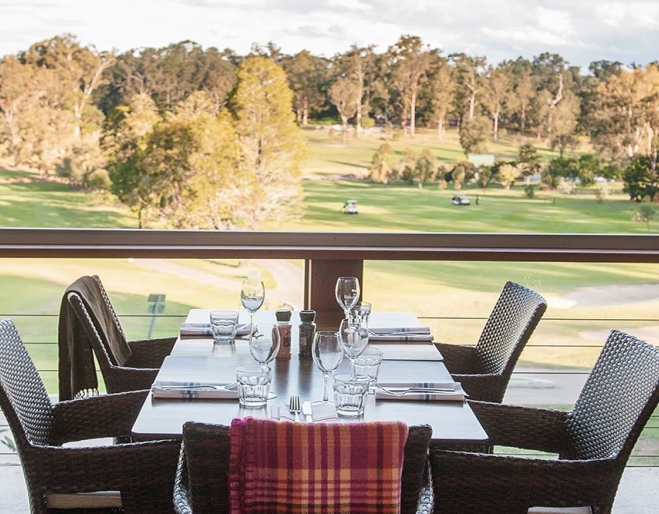 Hundred Acre Bar is the jewel in the crown of St Lucia's dining scene - a unique split-level venue sprawled across 5 levels and surrounded by 100 acres of manicured gardens. 
The much-loved destination by both locals and visitors, is part of Hillstone St Lucia Golf Links precinct, which incorporates The Pavilion and Garden Golf - Brisbane's newest and most advanced putt putt course.
Featuring fire places, comfortable nooks, couches and festooned with lush foliage (with more than 360 plants). Hundred Acre Bar even has an exclusive roof top for private dining. 
Diners can enjoy fresh, uncomplicated food driven by seasonality and executed by their Executive Chef, Mark Penna and Head Chef, Brodie Cameron. Featuring multicultural flavours inspired by modern techniques, the menu is a reflection of Australia's cultural diversity, matched with an impressive wine selection.
But the house specialty, a ranger's valley black market rib eye MB5+ 500g, cut for two and priced at $135, is the main draw. Cut into strips and seasoned adroitly, the rib eye is cooked to perfection over a charcoal grill and served with a creamy fondant potato, with a well-balanced red wine sauce, mustard, and sweet grilled carrots.
Vegetarians are well taken care of here too, with Hundred Acre Bar serving up some of the best vegetarian options in town. The chef's menu, called from the earth, delivers a mouth-watering grilled zucchini that is lightly smoked and charred to order, served with a macadamia miso and deep fried salt bush leaves.
As well as the great wine selection, there is also a strong list of craft beers and insta-worthy cocktails to quench your thirst.
Good to know - Hundred Acre Bar are family friendly, with a great children's menu and plenty of space outdoors for kids to run around or play a game of mini-golf.
Hillstone St Lucia is a valued partner of Must Do Brisbane.com
Hundred Acre Bar
Hillstone St Lucia
Carawa St 
St Lucia
3870 3433