Wynnum-Manly
Walk Or Cycle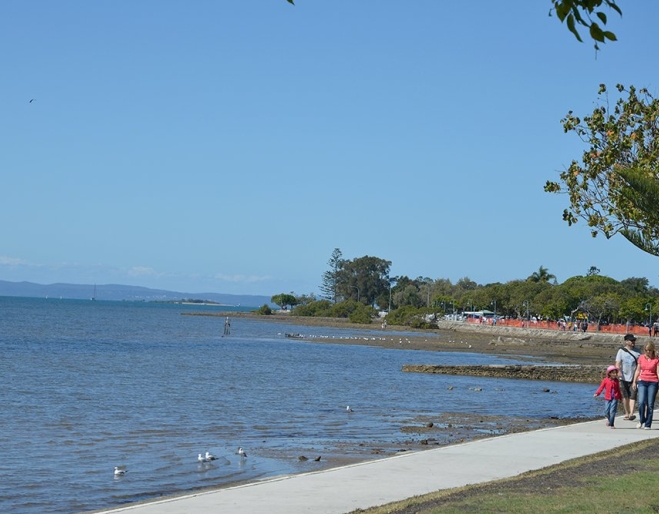 This leisurely scenic seafront walk or ride of around 10km return packs a lot of variety into its length, from the pristine waters of Oyster Point at the start to the new and old fashioned water park at Wynnum, to the vast marina of yachts that defines Manly. As this bay area is well-serviced by rail those who take the train have the option of not returning, but meandering up the main street of Manly, Cambridge Parade and taking a left on Mountjoy Pde to Manly Station for the return home. This walk also links up via Oyster Point to the Wynnum Mangrove Boardwalk.
*In Wynnum's main street is dog-friendly Frenchies cafe which makes a good starting or end point. On the 1st and 3rd Saturday mornings of the month Jan Powers Manly Market makes a top spot for brunch with dog in tow.
1. Start the walk/ride at the crescent of Waterloo Esplanade facing Oyster Point, where a breakwater with a sole bench juts out into the sea. Train travellers will need to leave Wynnum Station via Thorne St, turn left onto Tingal Rd - Wynnum's oldest road – and then right onto Wilde St. Follow this to the end, turn right and cross Fox Bridge which dates from 1921 and to the sharp left is Waterloo Esplanade.
From here it's about 500m to the charming little white sand Pandanus Beach, jetty, 1930's tidal wading pool and whale aquativity sculptures that constitute Wynnum Water Park. The excitement level drops a bit after this as the path faithfully sticks by the sea all the way to Manly via a series of picnic shelters, a playground and band stand.
Upon reaching Manly, there are plenty of refreshment options: prime locations are Tide Wine Bar (and cafe) right on the jetty or another option is Cafe la Mer, tucked away inconspicuously on a boardwalk in the East Coast Marina. Or take a detour up to Cambridge Parade for a bite to eat and coffee from Manly's only laneway cafe, Cambridge Lane Espresso.
2. Manly-Lota. Walkers and cyclists not down to their reserve tank of energy can continue a short distance past the marina along the roadside to Lota, which has a sleepy fisherman's village charm partly due to the tiny fibro sea cottages that permeate the few streets, dwarfed by fig trees and half overgrown with bougainvillea. Lota's grassy seafront reserve is overlooked by the sole fish'n'chip shop Barts Place and has an extra couple of kilometres return of pathway and some conceptual sculptures on its highest place, Fig Tree Pt.
Waterloo Esplanade
Wynnum
Map
Waterloo Esplanade, Wynnum, Queensland