PATA NEGRA HAS MOVED FROM BARDON TO FORTITUDE VALLEY IN 2022 AND AWAITS A NEW REVIEW.
Pata Negra is a charming and authentic little Spanish tapas bar and deli found nestled in the hills of Bardon.
A visit to Pata Negra is like going to Spain without leaving Brisbane, with one of the owners a Spanish native who, together with her husband, has faithfully recreated a piece of her home country.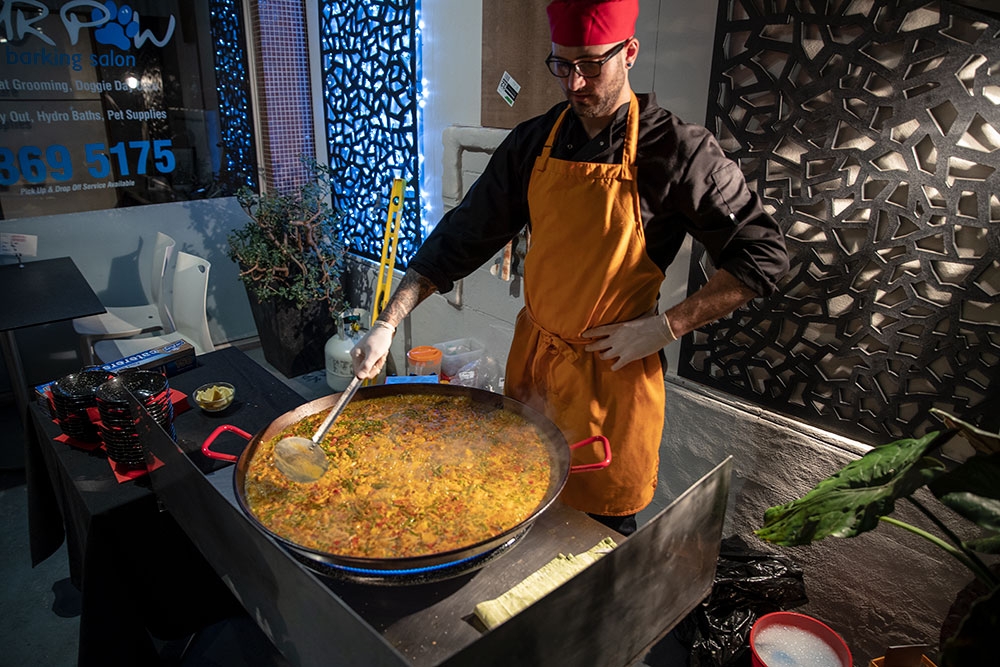 The lively community-friendly deli bar consists of an al fresco terrace with an olive tree planter boxes and Spanish guitar on the wall, where locals (including families with kids) and homesick Spaniards gather to enjoy traditional tapas. And here, on Friday, Saturday and Sunday nights, a paella chef can be found outdoors cooking up a storm at his pop-up paella bar.
Inside the cosy shop part of Pata Negra has more seating and is packed to the rafters with Spanish grocery products including a deli counter where you'll find a selection of charcuterie and cheeses you won't find anywhere else in Brisbane.
Aside from the Saturday night paella, which is the real deal, a house specialty at Pata Negra is the Jamon, (Spain's famous rich & nutty ham) including the must-try All Jamon Iberico de Bellota* (black label – cured for 32 months), which is sourced from acorn-fed pure-breed Iberian pigs and served with crusty bread.
Or sample a range of their Spanish charcuterie with the Iberian Cured Meat Platter, cheeses with A Very Spanish Cheese Platter or both with the Iberian Meat & Cheese Platter. All platters are for 2 otherwise go for the Maxi Platter for 3 or 4.
The excellent range of traditional tapas is featured in a rotating menu and includes the likes of Patatas Bravas (a Spanish staple – chunky 'chips' with spicy Brava sauce), Jamon croquettes, Garlic Spicy Prawns (Andalusian specialty), Morcilla Andaluza (blood sausage) perfectly paired with a dark ale, Chorizo a la Cidra (chorizo flash-fried in apple cider), served in a glazed clay 'cazvela' with crusty bread, Albondigas en Salsa (Spanish meatballs – a fave with kids), artihoke hearts marinate in sherry vinegar and Tortilla Espagne (potato & onion Spanish omelette).And on Saturday nights you can also order a bowl of delicious paella and even watch the chef as he makes it.
Drinks-wise there's an excellent selection of Spanish wines and local and Spanish beers and the owners are only too happy to recommend the perfect accompaniment to any of the tapas dishes. Or simply ask for a wine/beer pairing menu. There's also house-made Sangria or Mojito by the glass or jug and sherry as well as caramel or honey rum from the Canary Islands.
*Pata Negra (translation: black hoof) takes its name from the finest Jamon Iberico, which is produced from the free range black Iberian pigs and which is a house signature on the menu.
Need to know – There is a public car park on the corner of Simpsons Road and MacGregor Terrace that is free to park in, easy to find and about 100 steps away.  The car park's entrance is in Simpsons Road and there are ample spaces available. Otherwise on-street parking is free.
Check out our full list of Brisbane's best gourmet and continental delis HERE
More of Brisbane's Spanish restaurants, bars and eateries HERE
Pata Negra
73 McGregor Tce
Bardon
Opening hours
Licensed
3367 0817 or
0413 176 031
Map