The Stores Grocer
West End
THE STORES GROCER HAS PERMANENTLY CLOSED.
The Stores Grocer is an Aladdin's Cave of all things fresh and locally produced - a secret foodie emporium in a stunning heritage space in West End.
The ambient gourmet grocer has a butchery, deli, fruit and vegetables, wine, fresh seafood section and walk-in cheese room as well as an in-house cafe and catering service. A team of chefs prepare a range of delectable foods daily in the open kitchen for the cafe as well as for purchase in the deli section.
At The Stores you'll find the best quality locally sourced fruit and vegetables. Produce comes from growers in central Queensland through to northern NSW, including leafy greens and herbs from the Lockyer Valley and apples from Stanthorpe. In-store grocers also prepare vegetables in ready to cook formats as well as fresh fruit platters with just a morning's notice.
The top quality butchery showcases some of Australia's finest beef (which is predominantly grass-fed) as well outstanding local Qld pork, local free-range poultry and Tasmanian lamb. The expert butchers will tell you where the meat comes from as well as advising about taste, cut and how best to cook it.
The deli stocks an impressive range of small goods from local makers as well as the iconic European suppliers. Jamon Serrano, Prosciutto di Parma, Saucisson Sec, Prosciutto d'Abruzzo, Mortadella are all available along with an extensive range of artisan style cured meats and fermented small goods from family owned award winning Byron Bay's Salumi Australia. You'll also find Queensland's finest single-smoked shaved leg ham, in-house hot smoked Tasmanian salmon, the world's best anchovies, beetroot cured salmon, stuffed peppers, haloumi and an abundance of  other European delights, perfect for grazing platters.
Perhaps the showstopper here though is the walk-in cheese room -a cheese-lover's dream where shelf upon shelf displays both local and imported artisan cheeses. Here you'll find the finest Stilton and Cheddar from England, decadent white moulds from France,  famous goats' cheeses from the Touraine and Spanish Manchego (salty, nutty sheeps' milk cheese) and Italian classic cheese as well as well-sourced local cheeses.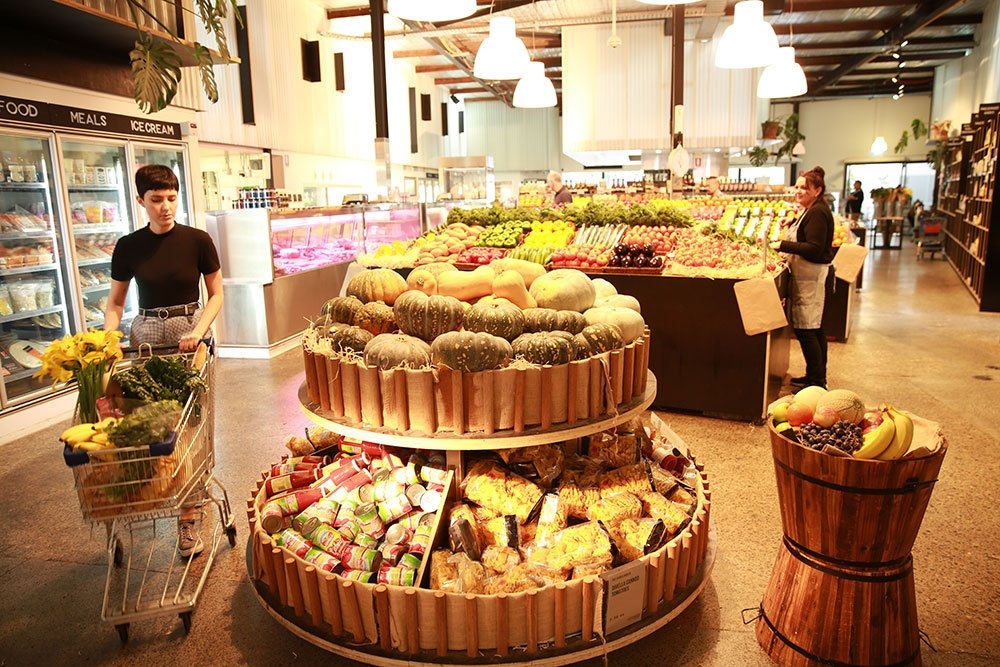 At the fresh seafood section, local reef fish can be purchased as a fillet or whole, as well as the finest Tasmanian salmon and Mooloolaba prawns (green or cooked). And on the shelves you'll find plenty of luxury pantry products including condiments, sauces, relishes, mustards and marinades, olive oil and vinegars, local and Italian pastas, along with a range of Thai, Vietnamese, Chinese, Indian, Malaysian, Japanese ingredients.
You can't go past the fresh in-store made pasta and gnocchi which is crafted by Milanese Head Chef Jacopo Corbetta who has worked in Michelin Starred restaurants in Italy for most of his career, as well as a stint as Head Chef at Bondi Icebergs before moving to Brisbane. At The Stores there is always different lasagne, Buffalo mozzarella cannelloni and other hand-crafted pasta dishes good to go. You'll also find a fantastic range of other ready-made meals (butcher, seafood, pasta, salads, roast free-range chickens) all of which are very popular with busy working people, mums on the go, those who can't cook etc.
At the bakery, you'll find a fantastic selection of daily fresh baked breads from Crust & Co. and Danny's Bread and you can also buy fresh in-store baked cakes and desserts by The Stores pâtissier and sandwiches etc from the in-house kitchen. There's even a wine station where you can buy local wines on tap in refillable French bottles.
The leafy on-site cafe, with courtyard or indoor air conditioned seating, makes a great place for a scrumptious light meal, coffee or refreshment pre-or-post shopping, with a selection of fresh gourmet sandwiches, pastas, salads and cakes to enjoy. Coffee on pour is locally roasted Fonzie Abbott.
Good to know - The Stores Grocer has a catering service available, with a fantastic array of offerings including cheese or antipasto boxes, point sandwiches, free-range roast chicken, house-made salads, cooked whole king prawns with tartare and lemon or house-made sweet bites. A minimum of 24 hours notice is required. Catering menu can be viewed HERE
The Stores Grocer is a valued partner of Must Do Brisbane.com
The Stores
404 Montague Rd
West End
3255 0033
Map
404 Montague Road, West End