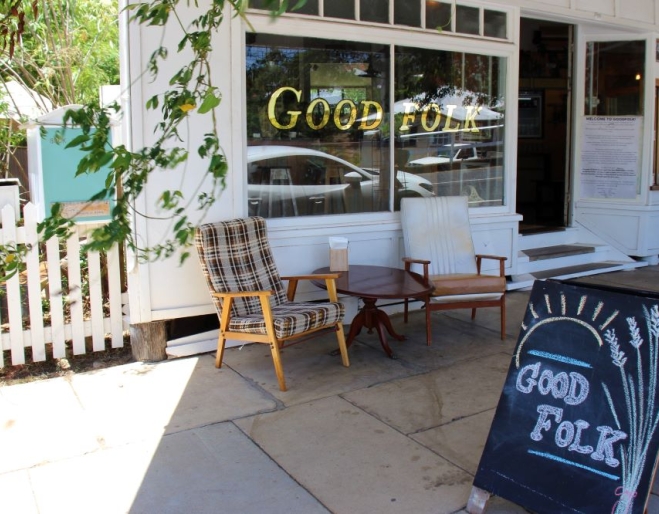 Goodfolk Cafe in Bardon is a charming, child and dog-friendly cafe, offering specialty coffee, house-baked treats and delicious all-day breakfast fare. 
Housed in an old general store, formerly occupied by Neighbourhood Coffee Roasters, Goodfolk is a sibling for Gramps Cafe in Red Hill. This quaint cafe and community hub boasts a bright and airy split-level dining space filled with eclectic furniture, as well as two outdoor eating areas -  a quirky, cottage-style side garden and a rear courtyard with a mint-fillled bathtub overlooking the spacious backyard and adjacent herb and veggie gardens.  
The all-day menu features breakfast faves such as smashed avo on toast with Persian feta, savoury dukkah crumb and pickled red onions, and free-range poached eggs on toast with house-herbed labne. 
Otherwise, there's Goodfolked Eggs (creamy folded eggs topped with slow-baked tomato, speck ham and green salsa), Breakfast Curry (chickpea, lime and coconut curry with seasoned flatbread), and the highly-recommended French Folkie - butter-fried sourdough served with house-made lemon curd, creme fraiche, seasonal fruit and homemade almond biscotti fingers.
Coffee on pour is roasted locally by Neighbourhood Coffee Roasters, served along with specialty single origin teas from The Steepery Tea Co, and drinks made in-house including cold brew, iced chocolate, spiced chai, cold-pressed juice, and seasonal iced tea.
By Deb Lidster
Goodfolk Cafe 
58 Rainworth Rd  
Bardon
3367 8501