Satori Organics Cafe
Sandgate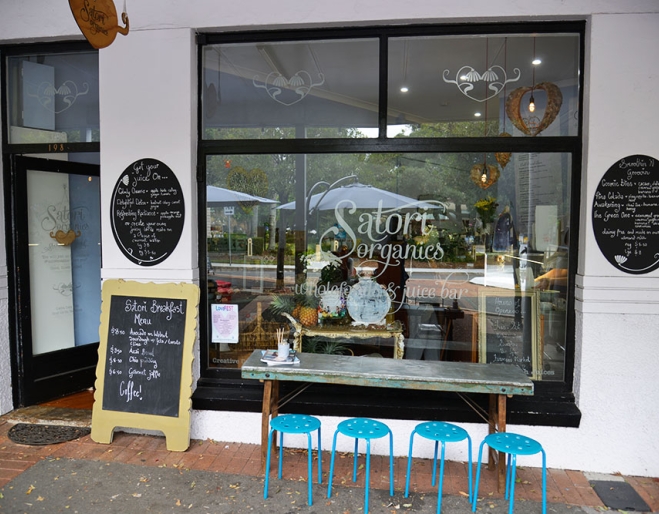 Satori Organics is a charming pocket-sized cafe, juice bar and providore of delectable wholefoods in the quaint line-up of retro shops facing Sandgate's historic Town Square.
The minimalist blackboard menu packs an entire day's healthy goodness into its little line-up of dishes. Everything here is made on premise with organic ingredients – behind the counter are daily dips such as hommus and tamari mushroom, falafel, seasonal quiches, daily salads and Vegan/Vege bakes while propped outside is an ever-changing blackboard menu featuring all day breakfasts like Avocado and walnut sourdough with fetta, tomato and lime, Acai Bowl, Chia Pudding or Gourmet Jaffle.
One of the highly recommended dishes at Satori is the Tapas Platter, with a selection of delicacies from behind the counter such as sheep cheese, tamari mushroom dip, beetroot toffee, garden nibbles and rice crackers. Drinks are just as delicious and healthy, from the cold- house specialty smoothies, fermented drinks, cold pressed juices and dehydrated teas and iced tea frappes to the hot – Bullet Proof Coffee, Prana Chai and hot chocolate.
As well as being a great place for a leisurely graze for breakfast or lunch, inside is a little trove of products to take home – fermented fruit vinegar, lemon myrtle pickles, beetroot toffee, tomato chutney, smoked honey jars, mini sacks of hand-harvested macrobiotic sea salt and beeswax birthday candles to name a few. And BYO jar and fill up from the urn of local raw honey.
Need to know – On Sunday and Wednesday mornings from 7-11am, Satori Organics hosts a mini organic Farmers Market on the street outside, showcasing locally (and near-by) grown produce.
Satori Organics Wholefoods & Juice Bar
198 Seymour St
Sandgate
0404 044 266