Gasworks Twilight Markets
Newstead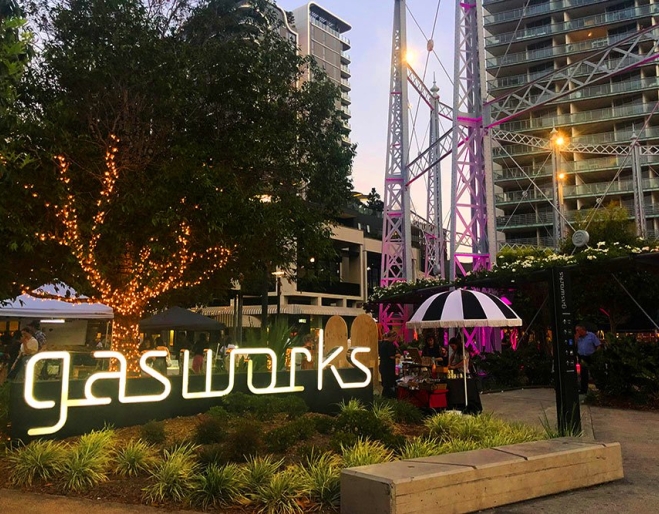 Set within the iconic and heritage-listed Newstead structure, the Gasworks Twilight Markets offer a plethora of stalls showcasing a mix of beautifully-handcrafted, designer pieces and artisanal treasures just waiting to be discovered.
A stroll around the night market only gets prettier as the evening sky takes over and the impressive lighting of the Gasometer fills the space with a magical glow. And what better place to do your Christmas shopping than in this enchanted setting on Saturday December 10.
Whether you're there to browse, or you're looking for something specific, it's hard to walk away empty-handed. 
Everything from fashion, design and homeware creations, lush plants and handcrafted ceramics, to organic skincare, one-off jewellery pieces, cute-as-a-button children's clothes and toys is right at your fingertips.
These laid-back, open-air, designer markets are dog-friendly, and, in fact, you can even pick up some great pieces designed and lovingly made with your four-legged, fur baby in mind.
The sounds and melodies of a local muso can be heard wafting through the air, and with a lovely grassy knoll to relax on, the Gasworks Night Markets are a great spot to just chill and take in the vibes of the weekend eve.
It's always special at curated markets like these to have the chance to chat with the makers behind the merch and get a handle on the ethos, direction and inspiration behind their business, and many of these small business owners are on-hand and happy to share their story with you.
The importance of ethical and sustainable products is high on everyone's agenda, and at the Gaswork night markets,  you'll find many small businesses that are working hard to reduce their carbon footprint.
While you're in Newstead, why not make a night of it and eat local, with a host of fab dining offerings just a stone's throw away. Check out our guide on eating out in Newstead, or explore a little further and eat out in Teneriffe.
76 Skyring Tce
Newstead
Xmas Market Dec 10
2nd Saturday each month - 
5-9pm