New Farm To Teneriffe
Walk Or Cycle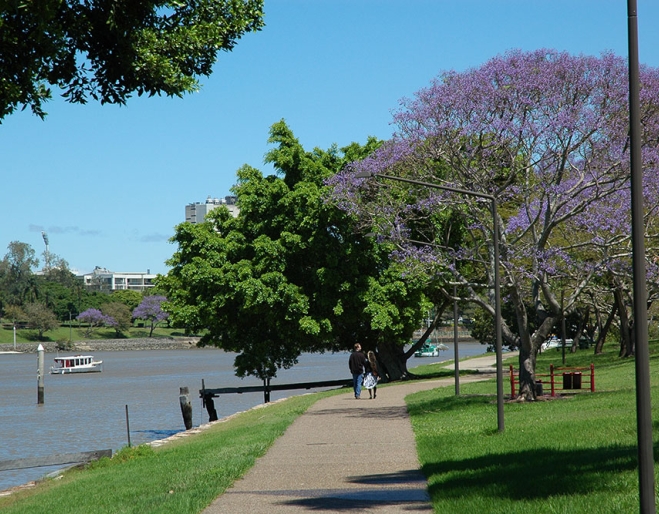 This leafy riverside trail of around 6km return includes the option for a meander through the ex convict farm and racecourse that for over a century has been the splendid New Farm Park, and the old Powerhouse which today is an arts hub and Saturday market venue (which is dog-friendly) every Saturday morning. From here it passes along Cutters Landing in front of the old sugar refinery apartments before entering the old wool store precinct of Teneriffe.
Those accompanied by children will probably find it impossible to avoid a stop at the park's fig tree fortress playground, which doubles as a good half way reward. This is also a good one for 4-legged walking companions, with is dog friendly cafes Double Shot Espresso and Dicki's en route, and halfway through the walk, near the Brisbane Powerhouse, is an offleash dog park.
1. Rivercat and car commuters alike start at the same spot for this walk, at the Sydney St Ferry Stop. Head straight onto the river front where the path cuts in front of houses and through the wooded glades and lawns of Merthyr Park. Upon reaching Merthyr Bowls Club, retreat inwards to Oxlade Drive (dog friendly Double Shot Espresso is on this street) where the odd igloo style buildings of the Riverside reception centre adjacent were purpose built in World War II as a recreational centre for US servicemen. Completing the odd trio is the Limbless Soldiers association, started in the 1930's as a bowls club for war maimed WWI returned servicemen.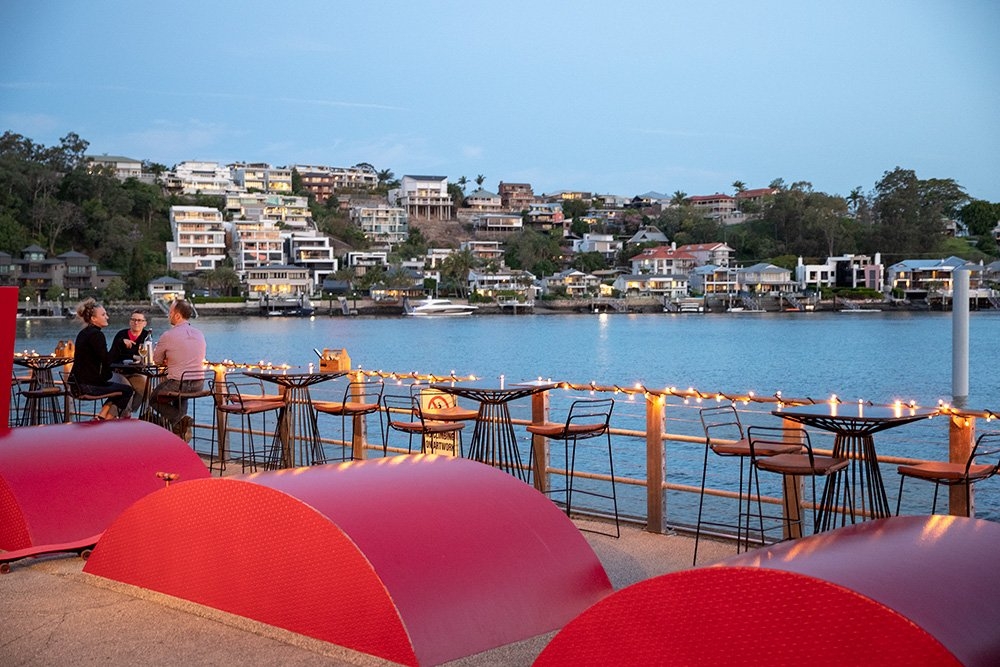 2. Upon reaching New Farm Park swing back to the river if not detouring for a playground visit or rose garden stroll and stick to it until the Powerhouse. Here Mary Mae's overlooking the child-magnet flood sculpture is a laidback spot for a circuit breaker as is the Powerhouse itself which almost always has a photo exhibition, comedy act or something else free happening.
3. Continue on around the front of the Powerhouse to join up with Cutters Landing, overlooked by the CSR Refinery. The rest of the boardwalk to Teneriffe is dotted with relics of the days as loading docks for the wool stores, including a submarine heritage trail, the old red brick engine room (now Barko & Co cafe) that was a kind of early 20th century refrigeration room for shipped meat to be kept cool, and a scattering of old rusted dock bollards.
4. Arrive at the ferry stop bus shelter which is actually an old red brick World War II air raid shelter.