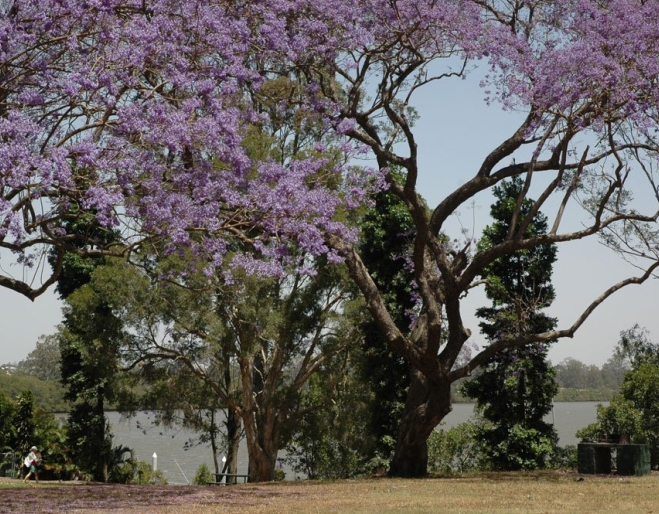 Families with young members on scooters or bikes and those looking for a non-taxing stroll may enjoy the first 2 km return section of this semi-shaded walk along the river while the second part carries on for a further 4-5km return via the Eleanor Schonell Bridge into the University grounds for a reconnoitre before returning.
Those who are vehicular-challenged may reverse the walk, arriving at the Uni via rivercat or bus as there is no public transport within a cooee of the Corso itself.
1. Start at the corner of Otaki Dr, which is one of a cluster of streets starting with the letter O due to a strange quirk that saw them all named after ships from the Orient Line that brought inter-war migrants to Brisbane. The pedestrian riverfront path starts here and hugs the river as it threads through a series of benches, picnic spots, reserves and playgrounds. Depending on stops, this is a half hour to hour return walk.
2. After the riverfront path ends, the walk veers back to the footpath of a residential street for a few hundred metres before rejoining the riverfront in the lead-up to Dutton Park and the Eleanor Schonell Bridge.
The crossing affords impressive views along the river towards Highgate Hill and beyond before landing at the sprawling green University grounds bequeathed to UQ in the late 1920's by James and Amelia Mayne, children of the notorious Patrick Mayne.
From the bus terminus, veer left past the lotus-covered lakes onto College Rd and turn right into Staff Rd. Up the hill and on the left just before the Schonell is Wordsmiths Café, an alfresco eatery featuring sandstone tablets dedicated to Queensland's great authors. Further on, a detour up to the magnificent sandstone Great Court, also on the left, will reveal a little Merlo coffee bar in the cloisters. For culture vultures with time on their hands, there's also the Antiquities Museum on the other side and the UQ Art Museum out front.
Back onto Staff House Rd, and uphill the student union building leads down to Union Rd and from here turn right past the pool and out onto the river front and right again to head back to the bridge. On the right just before the bridge the Alumni Teaching Gardens, a mini rainforest, is worth checking out. A short distance to the left along the river is the University of St Lucia Ferry Terminal.
Yeronga station
Killarney St
Map
Killarney St, Yeronga, Queensland